Engr. Seyi Makinde is the current governor of Oyo State, who came on board with Omituntun 1.0 mantra for first term of office, while 2.0 mantra marked the commencement of second tenure of office which began on 29th May, 2023.
He has executive chairmen at the local council levels, who are strategically placed to replicate his cardinal programmes and policies at their respective domains.
Hon. Popoola Olaide Settle has proved to be a true democrat and politician who does not act in contrary to Governor Seyi Makinde's developmental programmes which are aimed at bringing relief to dwellers at local levels.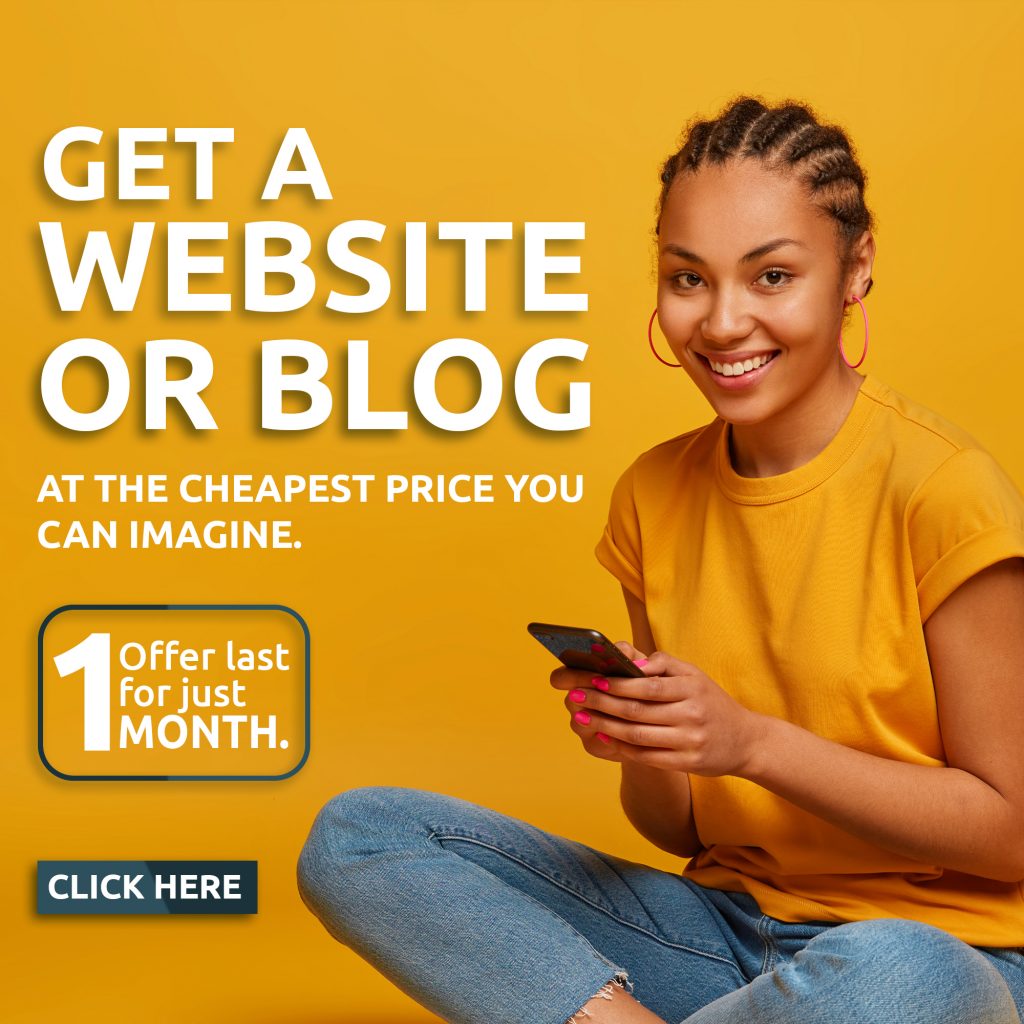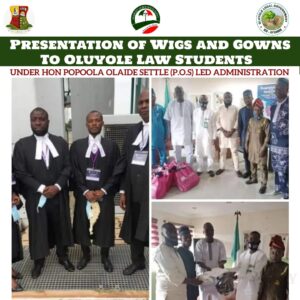 Settle doesn't wait to be told on what to do as the executive chairman of Oluyole Local Government, as his blueprints had succinctly explained how effective delivery would be attained on areas of education, health, infrastructures, security, and electricity among others.
Since he came on board, Oluyole has been witnessing developmental programmes and masses' relieved policies that had in no small measures contributed greatly to their well beings.
The indigenes and general dwellers at the local council are not regretting having him on board because his leadership and administrative sagacity had been addressing where shoes are pinching them.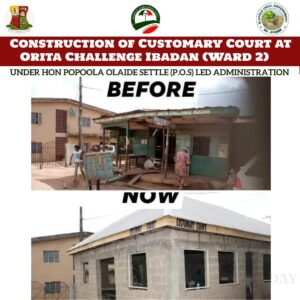 The followings are some of the feats, which he had attained over the last three years that he became the council boss.
✓ CONSTRUCTION OF 2 POLICE STATION ONGOING (both at the roof stage.)
i. OMITUNTUN POLICE STATION ONI GAMBARI WRD 9.
ii. AFAGBON POLICE STATION AJAWELE WRD 5.
✓ DONATION OF 10 TRANSFORMERS (300/11kva) TO 10 DIFFERENT COMMUNITIES ACROSS OLUYOLE.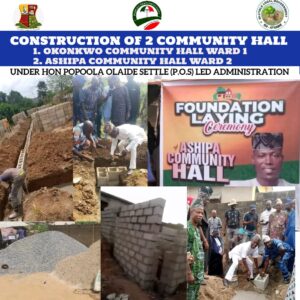 ✓ CONSTRUCTION OF 27 BOX CULVERTS ACROSS OLUYOLE.
✓ CONSTRUCTION OF CUSTOMARY COURT AT ORITA WARD 2.
✓ CONSTRUCTION OF 2 COMMUNITY HALL
i. OKONKWO COMMUNITY HALL WARD 1.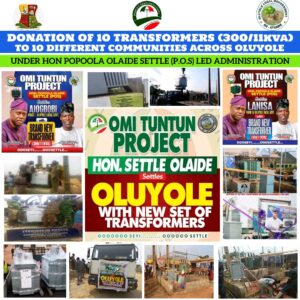 ii. ASHIPA COMMUNITY HALL WARD 2.
✓ FORMATION OF O.S.S.T OLUYOLE SECURITY SURVEILLANCE TEAM to play a complimentary role with conventional security architecture within Oluyole local Government.
✓ REHABILITATION OF 2 BLOCK OF CLASSROOM AT ST MARTIN'S PRIMARY SCHOOL, ABA NLA WARD 8
✓ DIGGING OF 8 BOREHOLE ACROSS OLUYOLE.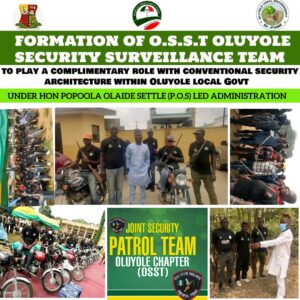 ✓ REFURBISHING OF 3 PATROL VEHICLE OF THE FOLLOWING DIVISION
i. IDI AYUNRE DIVISION
ii. TOLL GATE DIVISION
iii. GBERE DIVISION
✓ DISTRIBUTION 14 BAJAJ MOTOR CYCLES AMONG SECURITY OPERATIVES WITHIN OLUYOLE.
✓ PURCHASE OF 4 ACCRES OF LAND FOR OMI TUNTUN CEMETERY AT ELEWURA VILLAGE WARD 8.
✓ DISTRIBUTION OF 5,000 OMI TUNTUN SCHOOL BAGS AND 40,000 OMI TUNTUN WRITING MATERIALS AMONGST PRIMARY SCH PUPILS ACROSS 10 WARDS.
✓ ONGOING CONSTRUCTION AND REHABILITAION OF ODO ONA ARAPAJA ASUNLE ROAD 4.67KLM.
✓ CONSTRUCTION OF 2 HEALTH CENTRE AT TWO DIFFERENT COMMUNITIES…..
i. AKINFENWA COMMUNITY HEALTH CENTRE WARD 7
ii. IREWOLE OKE OGBERE GENERAL COMMUNITY HEALTH CENTRE WARD 3
✓ REHABILITATION OF 10 PRIMARY HEALTH CENTRE ACROSS OLUYOLE.
✓ REGULAR OMI TUNTUN FREE HEALTH CARE PROGRAM
✓ DONATION OF HALF A PLOT OF LAND, 1500 BLOCKS, 60 TONES OF SHARP SAND AND 20 TONES OF GRANITE TO MAMA ADEJORO, AT OGO OLUWA ESTATE WARD 5.
✓ REGULAR OMI TUNTUN FREE HOLIDAY COACHING…..
✓ DISTRIBUTION OF FREE 100 NECO G.C.E FORMS TO 100 STUDENTS.
✓ SPONSORING OF 12 OLUYOLE INDIGENT STUDENTS TO SCHOOL OF NURSE AND MIDWIFERY ELEYELE.
✓ SPONSORING OF 15 OLUYOLE INDIGENTS STUDENT TO SENATOR ABIOLA AJIMOBI TECHNICAL UNIVERSITY IBADAN.
✓ PRESENTATION OF WIGGS AND GAWN TO OLUYOLE LAWYERS.
✓ INFLUENCING THE ENLISTMENT OF OLUYOLE INDIGENE INTO NIGERIA ARMY.
✓ FACILITATING SCHOLARSHIP AWARD FROM SLOT ENGINEERING TO ONE OF OUR INDIGENT STUDENT.